10 Best Elk Hunting Boots Reviews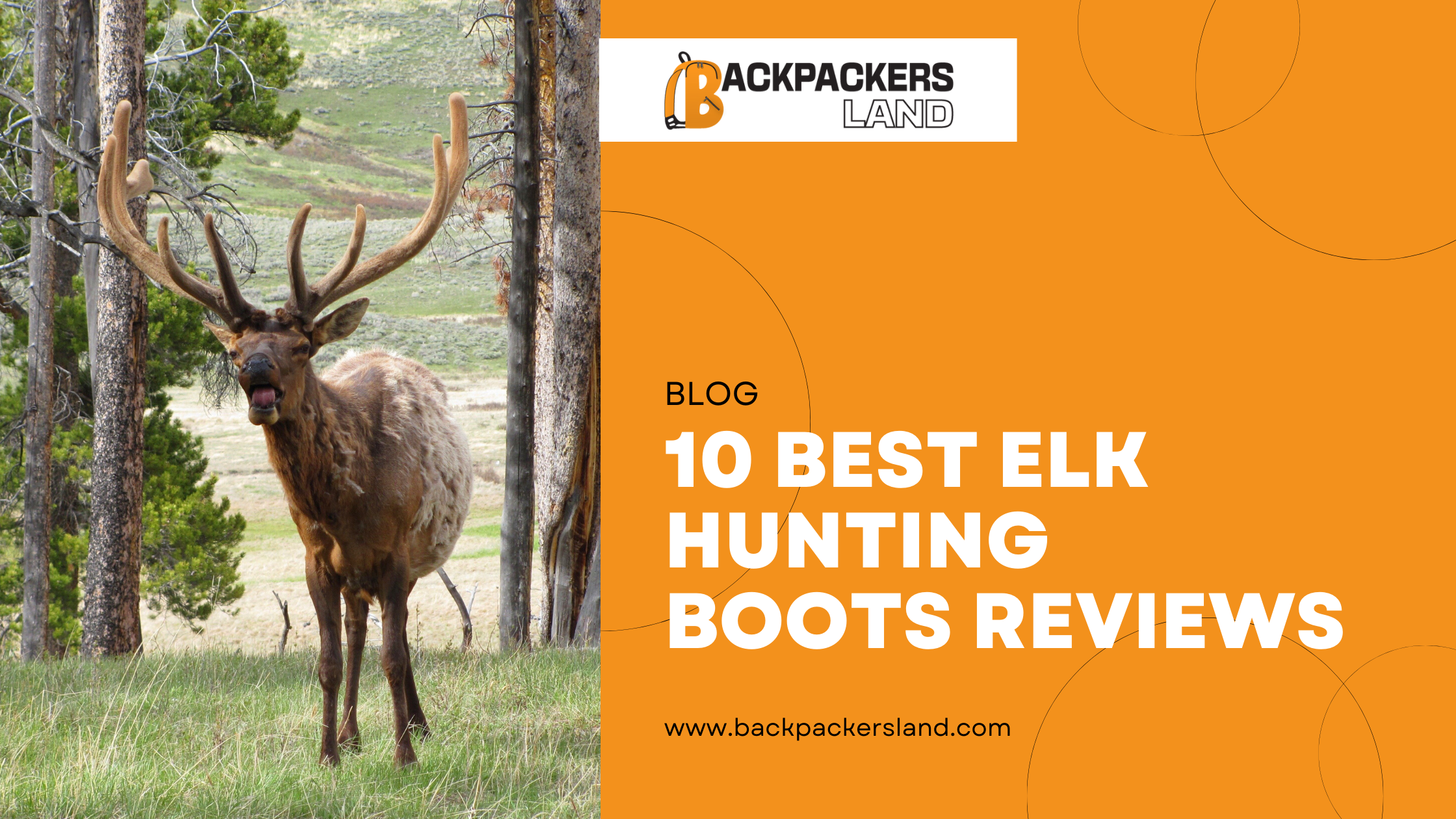 Elk hunting is a very hard task. You have to walk for long periods, climb mountains, walk on different terrains to finally hunt one Elk. During this time if your feet are not comfortable then elk hunting might be quite hard for you. This is why you need specialized elk hunting boots that will keep you going for an extended amount of time. If you are a pro elk hunter then you must know how important it is to pick the right gear.
Most of the time hunting boots depend on the comfort of the wearer. If the wearer is fine with its materials, design, and stuff then it's considered perfect. We have researched many elk hunting boots from various elk hunters, enthusiasts and shortlisted the best elk hunting boots for you. These boots have been highly appreciated by many elk hunters and they always pick these whenever they go out for elk hunting.
Things to consider before buying best elk hunting boots-
The material of the boots
Many people don't think about the material much and just buy it. But they don't realize the fact that they are not just buying it for a single hunting season. They are buying it for a long long time. So, you have to ensure that the boots are built with long-lasting materials. Usually, the upper part of good hunting boots is built with leather.
Sometimes, you'll find a combination of leather and some synthetic fabric on the boots too. The leather is very protective and comfortable. They take care of our feet while climbing rocky mountains and walking through hard paths. If you buy weatherproof or waterproof leather boots then you can also keep your feet safe from getting wet.
Check if it fits or not
Hunting boots are not always comfortable at first. But you will eventually get used to it. You should still try different styles of boots and see if you are comfortable with them or not. When you put your foot into the shoe check if you can move your toes freely in it or not. Walk for few seconds if possible to know if it's slippery or tight. After checking all the things you can finally conclude. Remember that a perfect fit boot can help you to walk miles after miles easily.
Go for seasonal boots
There are different kinds of specialized boots for different seasons. You have to adjust your boot selection according to the weather. For example, during November-December, the weather remains cold and densely fogged. Wearing a heavy boot will cover your feet fine during this season. But, during March-April the weather is very hot and filled with moister. You will need high-insulated boots for hunting during this time. Most people use rubber boots for the rainy and winter seasons. Because it helps people to walk through wet grasses without any difficulty.
Can it keep your feet dry?
The main purpose of elk hunting boots is to keep your feet dry from moisture, dirt, water, etc. As an elk hunter, you have to walk through various surfaces such as open fields, rocky mountains, hard terrains, and muddy places as well. If your boots are not properly waterproof there is a high chance of your feet getting wet during hunting. Which will bother your hunting and your feet will start to slow up. So, before buying a hunting boot always check if it's water-proof and if there is any leather in it or not that can keep your feet dry.
Check for good laces
The most frustrating thing about boots is that the laces always get loose when we walk for a long time or run a little. If it happens during hunting you may lose your target sometimes. This is why it's important to look for boots that have a good pair of strong laces and won't get loose easily. Don't choose low-quality laces that have weak hooks or plastic hooks. Sometimes the laces are too thin. Thin laces increase the chances of getting loose. So, always be careful about these small things before buying a hunting boot.
Is it warm enough
You need to figure out all the dimensions of insulated boots. Insulation varies from boot to boot. Some are highly insulated and some are less. According to the season or weather, you have to figure out how much-insulated boot you require to keep your feet warm inside it. Boots with better soles also help your feet to be warm. If you decide to wear a good pair of socks you can easily keep your feet warm from the outside situation.
The best elk hunting boots for you-
Irish Setter Men's 882 Elk Tracker hunting boot
If we are talking about elk hunting boots then it's almost certain that we have to talk about Irish Setters. It is one of the most highly recognized brands in the hunting world. It has been built with 100% pure leather for your ultimate comfort and flexibility. You can walk on any rocky surfaces and terrains without getting tired or clumsy. The 12" inch boot is specially manufactured for professional Elk hunters and many of them use it too.
With 600 grams of insulation, it can keep your feet dry. During too much heat many boots tend to get exposed but not this one. It will always keep your feet dry and safe from the outside environment. With the EVA easily removable footbed you can comfortably walk anywhere. It lets you have a tight grip and keeps your feet warm.
It also has GORE-TEX waterproofing that prevents the boot from being damaged by water. As an elk hunter, you must need hard and tough boots. The design of this boot certainly lives up to all the conditions that a hunting boot should possess. You can order it anytime. It also offers you extended sizes!
Danner Men's Pronghorn 8" Gore-TEX Hunting boot
Everyone who is involved with hunting is known to Danner. It's a manufacturer that has been making one of the best suited and well-crafted hunting boots over the years. The pronghorn 8" of Danner is also one of its special production. It has been built with CamoHide leather and powered with the Terra technology. The bond between the stitches, chemicals, and fabric of this boot is just fascinating, making it a boot that will last for a long long time!
It has been designed well for a better fit and lightweight feeling. The toe and heel cap is made with full leather which protects the feet from any kind of outside impact. An ortholite footbed plugged inside it ensures you ultimate comfort by its long periods of cushioning while creating a cooler drier. You can keep going for a long time without any sweat or discomfort in your feet.
An extra amount of rubber has been added to this boot to deal with any kind of mud and dirt. It is also rugged pretty well. This boot will give you all the stability in the world while walking on slippery surfaces as well. Besides the Gore-Tex waterproofing is also there to make your hunting easier and more smooth.
Lacrosse Men's Quick Shot 8 Realtree X-Tree Green-M
This leather and nylon constructed boot will be reliable for you while going through tough paths. It is both durable and affordable for you. As it's much less costly and built with classy materials. The nylon also makes this boot much lightweight compared to other ones. You can walk miles after miles without feeling anything heavy on your feet.
As we all know that leather can prevent water. So, an addition of leather in this boot makes it waterproof. The leather included in it stops any kind of water from getting inside the boot and prevents your feet from getting wet. Every hunter knows how frustrating it is when your feet get wet due to water.
The boot also has an EVA footbed in it that is easily removable. It gives you enough comfort to keep you going for extended periods. The outsole of it is also very lightweight and well-crafted to keep your feet smooth.
Rocky Men's Bearclaw 3D LTT Hunting Boot
Rocky has been one of the oldest and well-known for making hunting boots. Their boots are popular for being well-constructed, strong, and well-designed. This Men's Bearclaw 3D LTT has been built with pure leather. It is quite strong, sturdy and the rubber sole makes it comfortable for you. It is a boot that has been specially made for elk hunters.
After many tests, it has proven to be highly durable and sustainable under hard situations. The compact design of it keeps you well-balanced with the surface. You can easily walk for hours on muddy roads, wet places, rocky mountains, long terrains by wearing it. Surfaces may change but your balance will always remain the same.
It also has a very good insulation system. The Thinsulate Insulation system keeps your feet comfortable and dry. So that you can save your feet from outside impacts. There is also a footbed along with it that supplies air on your feet during movement. The 3D outsole of it makes your hunting or hiking even more exciting!
Lowa Men's Tibet GTX Trekking Boot
Hunters who like to explore new areas every day, love to walk on deep jungles, rocky terrains, love to explore risky areas can choose to wear this boot. This hardcore boot has been built with so much efficiency that it can take anything you throw at it. It has been crafted with German nubuck leather. Which makes the boot waterproof and durable.
This boot has a PU midsole inside that can stabilize your balance while walking on unbalanced areas. You can even keep your balance while carrying any heavy kinds of stuff with the help of this midsole. The Gore-Tex lining of it also improves the ventilation ability of the boot. So that your feet can breathe inside it easily.
It has a special flex design, a non-slippery lacing, and a rubber band fit inside it to protect your feet from any hard impact. The boot also features a Vibram outsole and a Lowa C4 Tounge with a strategic collar that can help you to take clever steps and prevent any kind of over-stepping.
Kenetrek Mountain Extreme 400 Insulated Hiking Boot
Despite being a hiking boot it has established huge fame among hunters as well. A large number of elk hunters love to use this boot. It is built with 100% pure leather that makes the boot waterproof and durable at the same time. The leather appears to be 10" tall and it has double and triple stitching on it. So now you can imagine how much long-lasting it will be.
A Custom-K Talon outsole fit inside it will help you to get a vast grip and friction so that you can have good control over the boot. There is also a 7mm Nylon in it which will provide you support stability while walking on rocky terrains, climbing mountains, or running on places. The most special thing about this boot is that it has swivels instead of a break-in. So that you don't have to work hard to fit it.
It has a windtrex waterproof membrane for walking on water and a 400-gram Thinsulate insulation that can keep your feet warm and dry. There is also a rubber sole in it that keeps your feet safe from any outside corrosion.
Irish Setters Men's 860 Elk Tracker Big Game Hunting Boot
Here is another masterpiece from Irish Setter. The 860 Big Game Hunting boot is also one of the most reputed from Irish Setters. Crafted with heavy-duty materials, this boot has higher durability. High-end boot stuff like leather, rubber, and nylon has been used in it. The 1000g Thinsulate of it ensures proper insulation that can keep your feet warm and dry under any circumstances.
The Gore-Tex lining also ensures the boot to be waterproof. Making the boot promising on wet and cold areas. There is a special technology called Scentban in it that can kill harmful bacteria and also terminates odor. You can safely walk on any road without any concern with it. You won't have to face any problem with your feet.
It comes with a removable lacing system so that you can clean it properly anytime you want. The outsoles of it are very durable and comfortable. It provides you with proper balance and stability during your steps.
Bog's Men's Classic High Waterproof Insulated Rain Boot
Bog's Men's Classic boot is specially built for people who love hunting on wet conditions, snowy areas, or cold surfaces. These boots seem to cope up with the cold and wet conditions well. The has been made with pure neoprene and rubber. It makes the boot more durable and waterproof as neoprene and rubber are known to prevent water.
The special thing about this boot is that you can even wear these boots under -40` degree temperature. So, people who love going to low-temperature areas should choose this boot. It has a non-slip outsole that helps you to get a good grip and balance while walking and the outsoles are easily removable for cleaning as well.
There is a rubber sole that prevents your feet from any sort of outer impact. The high insulation of it will keep your feet warm and dry during the whole quest. Comparing to all the other low-temperature boots this one is budget sufficient and proves to be more long-lasting.
Kentrek Everstep Orthopedic Non-insulated Boot
Kentek Everstep Orthopedic Boot has been built with pure leather. It is one of the most expensive boots on this list. But, despite being costly it has all the qualities that a hunting boot should have. It is a boot that is specially made for hunters who like to explore all day and hunt some amazing animals. For elk hunters this boot is special.
There is a Special Lateral bar stabilizer classified as AFO in it that provides additional ankle support for the people who wear it and it is supported by a 19-degree rocker bottom. The custom K talon outsole will give you solid grip and traction while walking. The outsole will also help you to keep a good balance. The solid design and leather constriction of the boot prevent any kind of outer impact.
It has a windtrex waterproof membrane which durable and breathable at the same time. It also keeps your feet dry, warm, and comfortable during the whole journey. It also has swivels instead of a break-in so that you can fit in easily. So, if you're a pro elk hunter then you should consider this wonderful boot.
Carhartt Men's 1" Waterproof insulated PAC Composite Toe Boot
This is a budget-friendly boot for hunters. If you like to hunt under cold conditions then this Carhartt Men's waterproof Boot might be the best for you. With a 100% leather construction and a rubber sole, this boot is more durable, smooth, and comfortable to wear. The durable side heel guard feature gives you stability. Balance and at the same time it also protects your toe from overstepping.
The waterproof and breathable design of it can keep your feet dry for hours and hours and it will also let enough air in your feet for more comfort and air circulation. It can save your feet from getting dry under several wet conditions. The 1000 LiteFire feature will provide you with proper insulation and will keep your feet dry and warm under cold conditions. You can walk on ice or cold surfaces without any difficulties.
This boot can also save you from electrical hazard which is a plus point of it. The boot will also not take much time to break-in. So, all of these will come to you under budget. The boot is available in Brown Oiltan and Black Coated colors.
Some FAQ's on best elk hunting boots-
What should I look for in an elk hunting boot?
You should always check the material first. The boots need to be rugged and made with waterproof materials. Then you should check if it's easy to break or not, it is comfortable or not, is it heavy or light.
How long do elk hunting boots last?
It mostly depends on the material it's made of. Usually, elk hunting boots are made of leather or nylon or a combination of both. On an average scale, most of the elk hunting boots last for 10 years. But, with rough use or less use, it can last less or more than 10 years.
How do hunting boots fit?
It's not that hard to fit in hunting boots. They are very hard and rugged. At first, you should wear it and not try to break in too hard. In course of time, your feet will feel relaxed and the boots will automatically adjust with your feet so that you can easily fit in.
Do hunting boots stretch as you wear them?
If you wear them constantly without any rest it will stretch. The more you wear the more it will stretch. Even though you can still wear it perfectly. That's why you should look for the perfect size while buying elk hunting boots.
Conclusion
Elk hunting is a passion. Elk hunters travel tough roads, hard terrains, mountains, icy places, etc to hunt. For this reason, they need solid boots that can last for a long time. Perfect elk hunting boots are capable of helping the hunter to walk for a long time without getting any swelling in their feet. Besides, elk hunting boots also help the hunter to keep balance on slippery tracks. We have narrowed down all the best elk hunting boots suggested by pro hunters and specialists and gave our honest review. So, do consider all the facts before buying!