Ground Blind Hunting Tips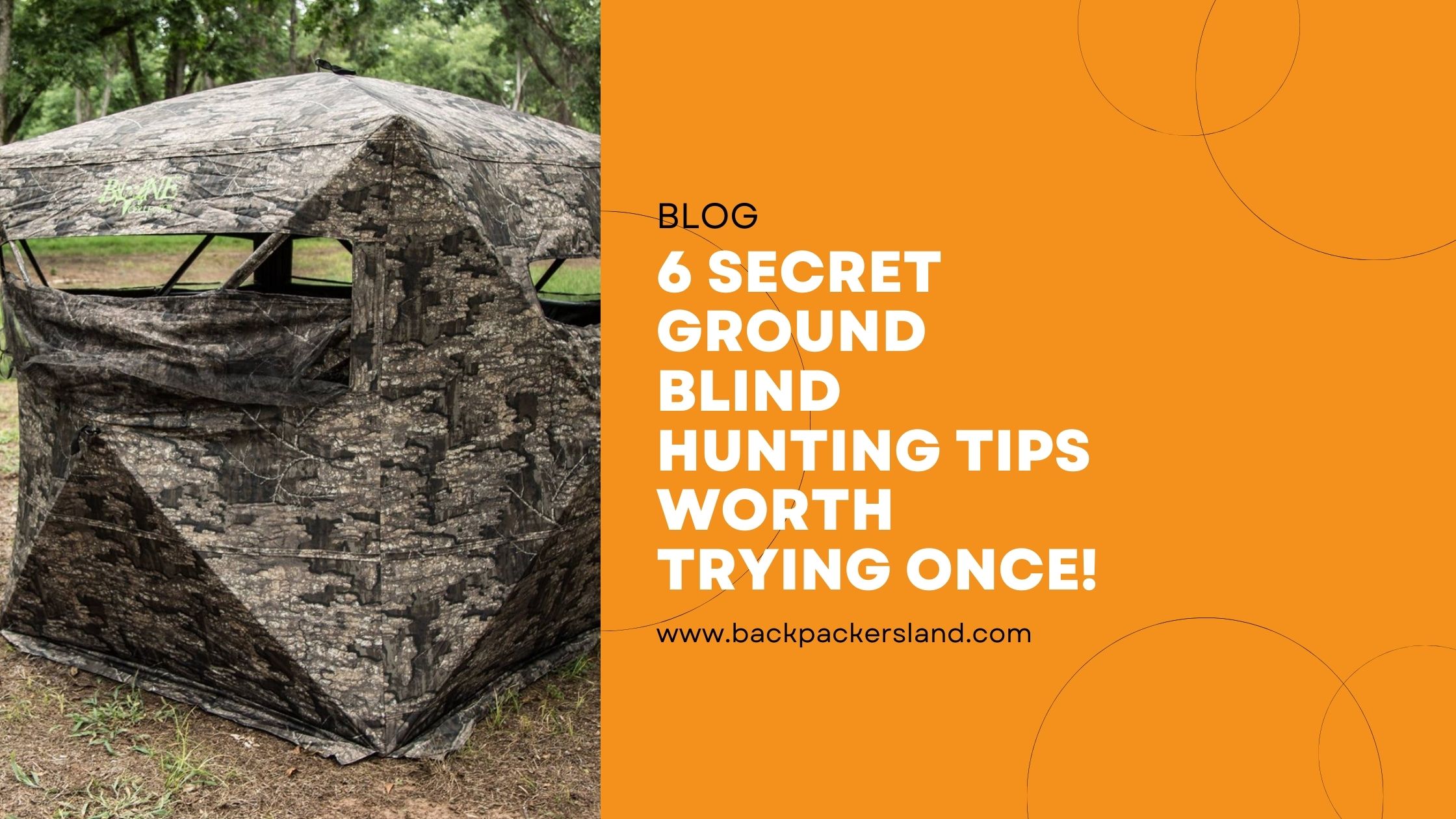 When it comes to taking the position for hunting whitetail deer, turkey, or rattlers hunters always get confused on where to take a position to see their prey more. However, the most favorite spots for deer hunters are specially treestands or ground blinds. Among them, treestands are better but still, ground blinds can be extremely effective for whitetails. There are many reasons for it. So if you manage to set up the ground blinds well then you will see your prey more often.
Expert deer hunters always maintain various strategies to set up their ground blinds. Sometimes it is not enough to take a position in treestands if there are too many people with you or if you are with your family then it becomes risky as well. Besides that, there is always a chance of rain. So all of these shows that ground blinds are also important. In this article, we will be giving you the best ground blind hunting tips that every hunter follows!
6 Best Ground Blind Hunting Tips –
Let the deer get used to it
This is a very effective strategy for setting up ground blinds and most of the hunters use it to build their ground blinds. If you are hunting target is deer. Especially bucks and whitetails then you should always follow this technique so that deer can get used to seeing your ground blind. Deer are very keen animals and they notice almost anything.
So if they suddenly see your ground blind near their favorite zone then they will always avoid it. But if you built the ground blind at least two-three weeks earlier before hunting then deer will get used to seeing that ground blind and they will not avoid that place. In this way, you can easily get to hunt more!
Set it up near the food source
We all know that during the deer season deer require a lot of food. So they will always be on the move to find food for themselves and the bucks. So if you want to set up a ground blind then just search the area and see how many available food sources are there for deer and which one attracts most of the deer. In this way, you can get the idea of where to build your ground blind. So if you build it near any good food source where lots of deer or bucks come to get nutrition. Then you will get to see more deer and find opportunities to hunt.
Set it up in between the paths
Sometimes setting up the ground blind near the food source might not work. Because the normal bucks or whitetails may fall for that trap and come near you. But what about the mature ones? They are not that easy to be trapped. They will start to avoid as soon as they see something fishy in that area and if a mature buck leaves then there are chances of some other bucks leaving too.
So to avoid this you should build your ground blind in between the path of the food source or the bedding area. Because deer do have to travel a lot from their bedding area and the food source. So if you set up your ground blind there you will see them passing more often and will get the opportunity to grab them without stealing any other deer's attention.
Near the bedding area
You always may not find deer near the food source or in between paths. If you can't find more deer near the food source or in between the paths then you will always find enough deer near the bedding area. The bedding area is the hot spot for deer. Because this is the place where they set up themselves for some couple of months to feed their bucks and take rest.
It is like their home for them. So instead of setting up the ground blind near the food source or in between the paths, you can just set it up near the bedding area. In this way, you will be near the core and see way more deer than usual. The more deer you see the more chances you will get to hunt.
Use bates
Most hunters like to use bate or a decoy near their blind ground to attract the attention of more deer. Mostly they use a buck or a mid-aged doe as bate. If you have a good realistic 3D buck then you can easily set it up near your ground blind. Younger bucks will notice the artificial bucks and think they are trying to invade their area. So they will quickly approach the decoy and you can get your chance of hunting them from the ground blind. Just remember that you hide with camouflage or else you might get exposed because of your skin.
Rainproof the ground blind
During the deer season, there is just no guarantee of the weather. You will see a good warm day in the morning and suddenly dark clouds will appear and there will be rain. So make sure the ground blind you set up has been perfectly rainproofed. Built it with a rainproof fabric and set it up nicely so that the water can drop outside and not inside. You can also spray the fabric silicone. Because it can prevent water and help to dry up quickly. A strong, rainproof ground blind will let you even hunt during heavy rain or save you from it.
Conclusion
When it comes to deer hunting ground blinds can not always be effective to get more deer. Because no matter what you do it is very hard to track these animals and one single mistake can cause a lot of problems. But if you use the above tactics then you can use the ground blinds more effectively. The main theme is to build them in a proper area and set it up early for the deer to get used to them. Do not forget to build it with camouflage fabric and build proper walls on it. I hope these ground blind hunting tips can be useful to you!