7 Must Have Elk Hunting Gear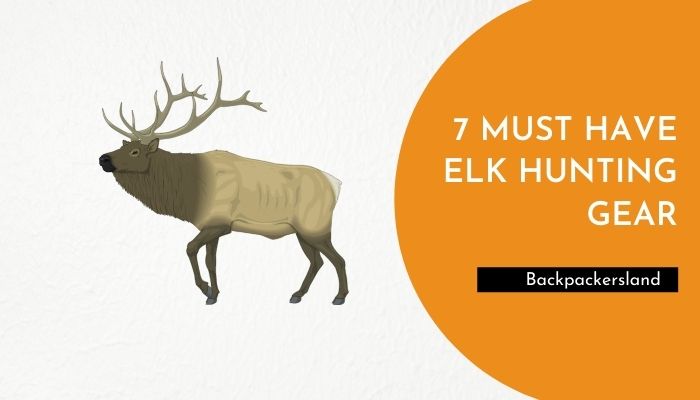 In the hunting world, there is no limit to packing gear. Everyone has their interests and opinion for different hunting equipment. Some might like the regular equipment and others might like to choose special equipment. This is why we notice many differences in the gear of different hunters. But for elk hunting, there is some special equipment that is necessary to add to their gear.
Compared to a deer an elk is more strong, tall, Agile and those big antlers on the head can be surprisingly tough. So if you do not have the right gear with you then hunting elk will become very difficult. Even though everyone has a different taste of equipment in their gear, there is still some equipment that is important for everyone and you should have. In this article we are going to describe the must have elk hunting gear for you!
7 Must Have Elk Hunting Gear List –
Camouflage outfit
As an elk hunter, you always need to wear a camouflage outfit while hunting. Because like most deer, elks are also very pattern friendly. So if you just roam around them wearing normal clothes then they can easily recognize your pattern and move away.
But if you wear a camouflage outfit and cover your body and face with it then the camouflage patterns will get mixed with the trees and bushes available in the forest. This way the elk will not notice you and you will be able to stay at stealth mode among them. So a camouflage outfit is the first thing you should add to your elk hunting gear.
Right weapons
Without weapons, it is impossible to even think of hunting. So it is very important to pick the right weapons. Expert elk hunters use different sorts of weapons for elk hunting. Among them, the most used are bow-arrow and rifle. These two are the more popular weapons among elk hunters. Many hunters prefer bow-arrow and many are comfortable with a rifle.
Besides that the other necessary weapons you must include in your gear is a hunting knife, butchery items, ammo or bows, and some ropes. Just make sure all these weapons are of good quality. They may cost more but you can always negotiate the price.
Insulated boots
You have to spend a long time in the hunting field and move a lot from this place to that place to hunt an elk. Which will bring a huge toll on your feet. Sometimes it might swell or sometimes sweat and you can also get hurt due to the risky areas you have to walk on.
The only way to avoid these is you have to get a well-insulated elk hunting boot for you and make sure that it is strong, built with good materials, and has enough breathing space that fits your feet. This is always necessary because sometimes standing in the snow also makes the feet numb. So if you add a good insulated hunting boot on your elk hunting gear you can keep going on for a long time.
Hunting Binocular
A binocular can come of great use during elk hunting. Almost every professional encourages others to carry a binocular with them. Of course, you can not just get any binocular! It has to be a special binocular only made for hunting. You can find these binoculars from brands like Nikon, Celestron, Vortex, Canon, and many other well-known companies that make optics and lenses.
A hunting binocular can narrow down your search. You can just get yourself from anywhere high and observe different movements of elks and keep eye on any particular target. You won't need to move everywhere to look for elks anymore. It will also help you to scout the area properly and built a good strategy. So do not forget to include a binocular in your gear.
A hunting backpack
You are mostly thinking about how many weapons to pick? What outfit to choose or What tools to keep? But did you ever thought of how you are going to carry all of these items? The answer is your hunting backpack right! Without a good hunting backpack, you can hardly imagine packing any of your gear.
So you must pick a hunting backpack that has big compartments, lots of pockets to store many kinds of stuff, silent zippers for no noise, and a comfortable seat for taking some rest. You may not always find a seat or a meat carrier on hunting backpacks. But always try to look for one that has it all.
Callers for elk
There are many types of callers for elks and they all make various kinds of sounds. These callers can be very helpful for grabbing the attention of elks. So make sure you get a good caller specifically for elk. The sounds these callers make can be very confusing.
So always practice making these sounds with the caller first. This way you can be comfortable in the hunting field. Your calling technique can determine how many elks you can attract. So do include a good elk caller in your gear.
Decoy and scents
A good decoy can be very helpful for grabbing the attention of elks. There are many types of realistic 3D decoys available on the market for elks. These decoys almost look the same as elks. So whenever a real elk sees the decoy it will think some other elk has invaded his space and he will rush to it quickly. You can also keep different scents with you that can hide your smell from the elks.
The smelling sense of elks is also great. So they can easily smell your breath in the air. A good anti-odor scent can help you to hide that smell. This is why keeping decoys and scents in your elk hunting gear is essential.
Conclusion
In elk hunting, good gear built with the proper equipment can do most of the job. So do not forget to include any of the items we mentioned above. Because these tools are mostly suggested by experienced elk hunters. They always take these items with them for long elk hunts.
During the hunting season, the prices of this equipment might be high so you can just store them before the season. You can also add some other equipment in your gear like a GPS, water bottle, flashlight or lamp, safety harness, and so on. We didn't mention it because it is not much important except the water and safety harness. So we hope this article gives you an idea about the must have elk hunting gear.