7 Must Have Duck Hunting Gear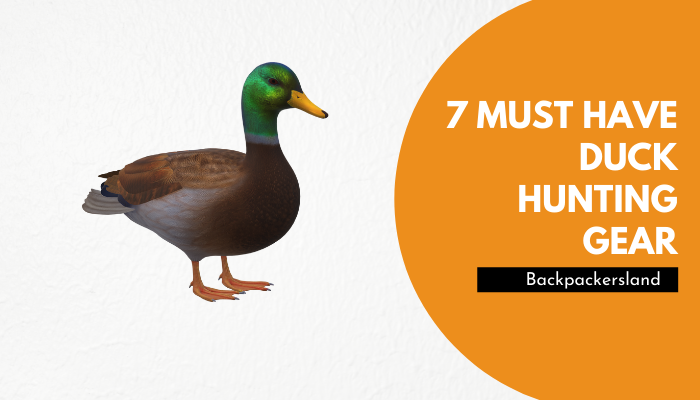 Every season duck hunters have to work a lot to get their prize. It becomes very hard when the water is flowing and you have to move through it with all those heavy accessories with you. Usually, waterfowls or ducks are mostly found in summer. During this time they don't fly much and like to stay near the water. So this is the perfect time to pick up your shotgun and go on to hunt some ducks.
But to do duck hunting you will always need a specific set of gear. Even though there is an unlimited amount of equipment required for duck hunting but you can not carry them all. So you have to be very careful about what item you should take and what to not take! Most expert duck hunters like to keep their duck hunting gear lightweight. If you are a beginner you will also get the idea of it in course of time. In this article we have given our opinion on the must have duck hunting gear for you!
7 Must Have Duck Hunting Gear List –
Waterproof outfit
The first thing you need before stepping into the water is a waterproof outfit. Without a nice waterproof outfit, you may last on the water for 30 minutes but you can't stay on the water for a whole day. So makes sure you have nice chest wade. Because without a chest wader the cold water in the morning will not take time to make your body numb. Besides the chest wader, you should also wear a good waterproof vest and strong boots. These are a must if you want to keep going against the force of the water. So if you get your waterproof outfit ready then you are almost good to go!
Anti-water carrier
It will be very nice to have an anti-water carrier with you while duck hunting. Because most duck hunters have to carry a lot of things with them. So if they don't have enough space in their bag then they can use a carrier for it. Usually, duck hunters like to own a floating carrier that can be carried on the water with a nice handle. For duck hunting, you have to spend a long time in the water and keep searching for the ducks. So if you buy a nice anti-water carrier or floating carrier then you can easily keep your extra tools on it.
A nice wading staff
A wading staff is necessary for most duck hunters or waterfowl hunters. For every fisher, this wading staff is considered the most valuable thing. The job of a wading staff is to give directions in the water. It can give us an idea about the things that can cause problems to us underwater. Usually, rivers or lakes have many huge rocks or stones under them.
So while walking we can get hurt by them. But if we have a nice wading staff with us then we can just use it in the river and walk with it almost like a blind man. A good wading staff has a nice handle, a hook that can be attached with your belt and it floats on the river without getting drowned.
Blind bag
A blind bag is always important for duck hunters or waterfowl hunters. While duck hunting there are a lot of accessories and tools that one needs to carry. But due to the immense pressure of the water, it becomes very hard to keep this essential dry and safe. For this reason, all duck hunters keep a blind bag with them.
A blind bag has a lot of small pockets and compartments that can keep your important kinds of stuff like license, hunting tools, ammo, shells, etc safe and dry during the hunt. So do keep a blind bag with you while duck hunting. Good blind bags are made from long-lasting materials and quality zippers and straps. So be careful before buying one.
Shotgun and ammo
If you ask any duck hunter or waterfowl hunter what weapon will they choose to go on duck hunting? The answer will always be " a nice shotgun". Without a shotgun, it is almost impossible for any duck hunter to go on the hunt. Shotguns are very good from close range and with a single shot, you can easily bring one waterfowl down.
Professional duck hunters always use shotguns as their first choice weapon and some of them also like to carry another extra shotgun with them. Make sure you also get good ammo with the shotgun. There are different kinds of ammo found at the market so don't hesitate to try them out before buying. A good shotgun and set of ammo can be the ultimate companion for you while duck hunting.
A dog carrier
Most of the waterfowl hunters these days like to have a dog carrier with them for their dogs. In the risky water, there will always be waves and your dog will not able to stay still with you all the time. So if you buy a nice dog stand then you can keep your dog safe in it and the dog can also operate for you from there. There are so many dog stands or carriers available in the market now. So makes sure you buy a strong one and more important is that your dog needs to be comfortable with it. Sometimes dogs are not comfortable with it and that can make things worse.
Multiple decoys
Decoys are the most helpful things during duck hunting. If you can deploy the decoys in the right space then there are always high chances of attracting more ducks into that area. To get more ducks hunters always keep a variety of decoys and use them according to the situation. You can use a different set of 3D decoys, floaters, feeders, and many combinations of decoys for a better variation. It can attract a lot of ducks and as a result, you can also have the chance of hunting maximum ducks.
Conclusion
Duck hunting is very challenging when the water is waving towards you. It can almost stop you on the path. It is more difficult if you are hunting on a cold morning inside the cool water. But with the right gear, you can easily overcome all these problems.
The equipment we mentioned above is necessary for you. So always choose to include these items in your must have duck hunting gear. You can always choose various items besides them but don't in doing so don't make your gear heavy. Just make it simple and lightweight. We hope this article can help you to build the must have duck hunting gear you want!