How To Hunt Whitetail Deer With A Bow?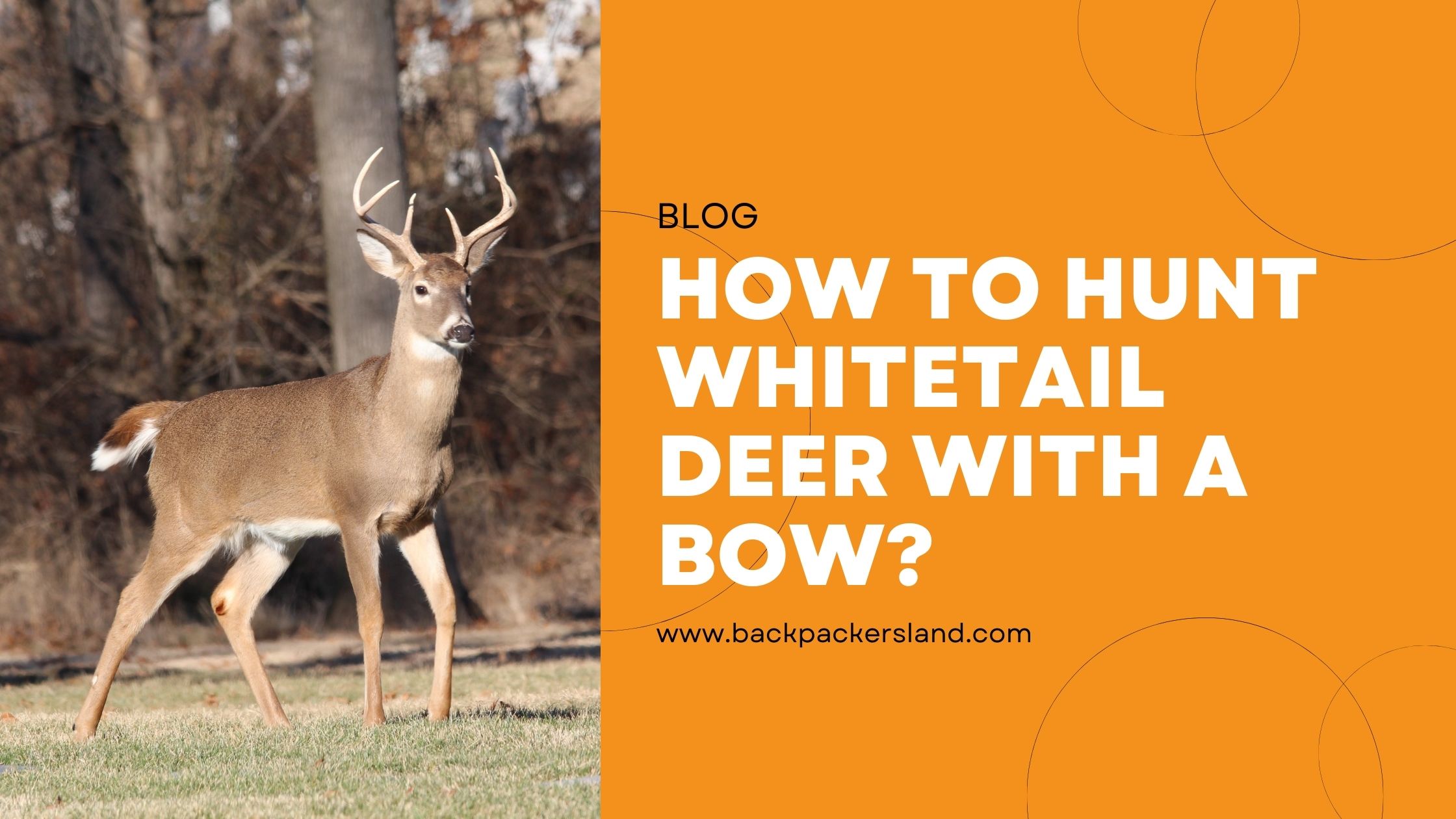 Whitetail deer are the most favorite prey for bow hunters during the deer season. They are fast, agile, and adaptable to most of the surface. You can find whitetail deer's in almost all states around the U.S. So no wonder why many bow hunters or archers like to hunt whitetail deer's the most during the deer season. But just by saying that you are going to hunt whitetail deer with a bow doesn't mean you can just easily hunt one. You need to know How To Hunt Whitetail Deer With A Bow first!
Hunting a whitetail deer with a bow requires many strategies, gears, and tools. Only after executing all these plans, one can hunt a whitetail deer properly. So if you are also planning on hunting whitetail deer and thinking about how to hunt whitetail deer with a bow then this article is just the one you want to read. We did our research on different strategies and techniques of whitetail deer hunting with bows from many professional bow hunters' experiences and made a list of some tips on how to hunt whitetail deer with a bow!
How To Hunt Whitetail Deer With A Bow –
Make the strategy first
To hunt whitetail deer with bows your first job will be to think about different strategies and then make the plan. That is the basic rule of doing any sort of hunting like bow hunting. A wise hunter never leaves the house before making the plan. Keep questioning yourself if the plan will work or not again and again. Experienced deer hunters always make the plan first and then set their gear according to the plan and then execute that plan with perfect timing.
Always scout early during the season as it will give you a better idea of the area and the surroundings. In this way, you can know, how and when to do certain things to get your prey. So always make the strategy first and analyze it.
Get your gear ready
For whitetail deer hunting you do not need a huge gear stacked with armories and tools. All you need is light gear with some proper accessories and a fine bow. Usually, whitetail deer hunters carry common things such as bow and archery tools, tree stand safety harness, wind checker, camouflage clothing items, flashlight, knife, butchering tools, deep freezer, and a good backpack.
With all these items you are mostly ready to go on to hunt whitetail deer. Some hunters also choose different tools or items according to their interests but don't include extra items that are not that important. Because it will cause you to carry more load that can bother while hunting deer.
Practice before leaving
Professional bow hunters always practice archery before going on a hunt. if your target is whitetail deer then you should be more concerned. Because whitetail deer are very fast and they move a lot. If your aim is not good you can never hunt a deer properly.
You can just hurt them but they will recover soon. Practice makes a man perfect you must have heard that. So do practice before leaving your home. You can use different arrow charts(whitetail deer anatomy shot placement bow) or deer replicas to practice. Shoot 10-20 arrows for a good warm-up and enhance your skills first.
Follow the paths of whitetail deer
So you have set your gear, made a strategy, and practiced enough now you have to go and find yourself some whitetail deer to hunt. But the question is how to find them? Well, the answer is very easy. You just have to follow their trail. Whitetail deer always follow the same route again and again. They hardly change routes.
Because during deer season they require a lot of food so they always stay close to the areas that have a good food source. You just have to go to those places and find their footsteps, hear their voice or something. You can also use the wind with the wind checker to find them. For a fast process, you can even set up a camera during your scout at those places and observe it know their position.
Know your position
Once you have found whitetail deer start acting according to your plan and take a position somewhere as quick as possible. Most of the whitetail deer bow hunters take a position on various treestands or ground blind. This is the most effective strategy because staying at 10-12 inches top from the deer is always giving you the advantage to stay still and prepare the aim. Do not forget to wear the treestand safety harness to avoid the risk of falling from the tree. But if you choose to stay on the ground then always be calm and choose a place where deer will not notice you. Because once they notice, you will be doomed!
Always stay in stealth mode
Whitetail deer have sharp ears and noses. They are likely known to be their greatest weapons and of course, their fast legs include too. So during whitetail deer bow hunting you should always stay in stealth mode and do not even let a single deer notice you. If one deer notices your presence then others will too and it will not take them much time to run away.
You can wear camouflage outfits and cover your face too with camouflage masks. These patterns will confuse the deer with leaves and other grasses and they will not notice you. There are also different anti-odor scents and boots that will hide your smell from the sharp noses of the deer.
Set food traps
This is a very good strategy that can always work. Food has always been the main weakness of whitetail deer's and during the deer season, this weakness becomes double as you already know that they require a lot of food during that time. So they will always get carried away whenever they see food. Set different types of foods that will attract any deer and use the snow to cover up your traps. Once a deer comes into your trap will get active and you can get your precious whitetail deer.
Know when to shoot
For bowhunters, it is extremely important to know when to shoot. Even if you have practiced a lot it doesn't mean you will not miss it. During the heat of the game, many hunters get nervous and shake their hands. As a result, they fire the arrow wrong and miss the target. Before firing the arrow know about the deer's position and your position.
Do not shoot if the deer is on the move because it will only increase the chances of missing. Hold your fire and wait patiently until the deer stops and then fire the bow at the lower part of the neck. This will make the deer immediately fall to the ground and then get closer and finish it off with a second hit. Use the butchering item to cut the meat and skin after the deer has calmed down and then bag it into the deep freezer.
The end
We hope after reading this article now you know how to hunt whitetail deer with a bow. It is not that hard if you follow these rules. The main theme is to set up a plan, get your gear ready according to the plan and then execute it the plan. Remember that your plan will never work exactly the way you visualized it. So always make a backup plan.
If the backup plan doesn't works too then just be clever and act according to your instincts. Do not be afraid to show your archery skills. Be brave and take risks. I am sure you will get the prize in the end. Hope the article will help you to be a better whitetail deer bowhunter!