Best Hunting Knife Under 100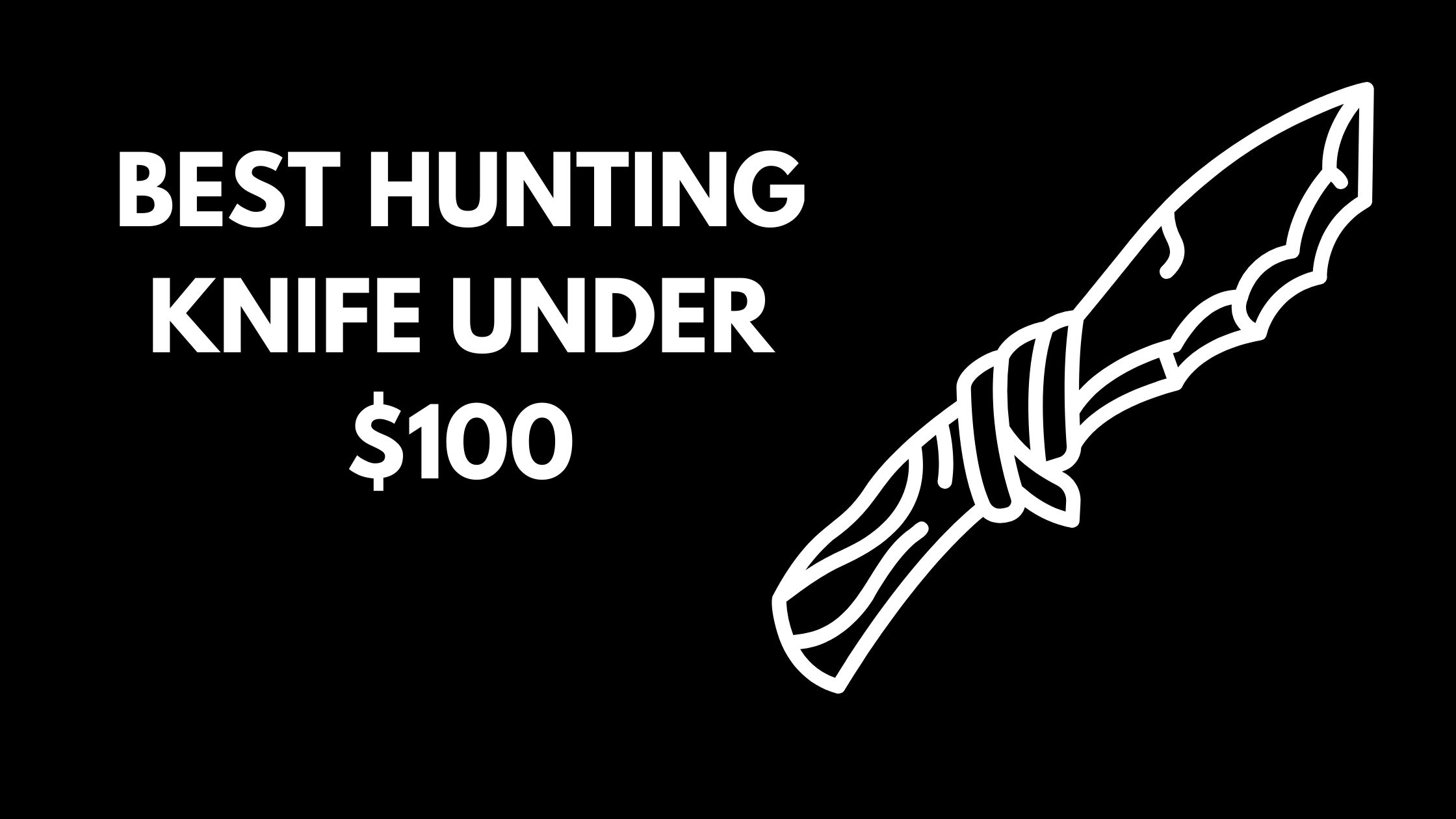 A hunting knife is necessary for any hunter who is thinking about a good hunt. It is quite handy for short campaigns, going through bushes, processing your food, and so on. Carrying a good knife while hunting can be crucial for survival as well. Sometimes it might save you from deadly animal attacks or you can also help wounded animals with it. Now, we all know hunting knives need to be sharp and solid all time. It may be a small thing but it can prove to be crucial for you during critical situations.
Only a true hunter can know what quality a good hunting knife should have. We may think that 100$ is not much but trust me it's more than enough for you. Many pro hunters use knives within this budget while deer hunting. A good knife mostly depends on you. There are various ones with more sharpness, better grip, long-lasting iron, etc. We have made a list of the best hunting knife under 100 after researching many comments from professional hunters and specialists. So, just scroll down to know more!
Here are the best hunting knife under 100 –
Buck Knives 119 Special Fixed Blade
The special 119 is one of Buck's most selling hunting knives. It has been passed on from generation to generation and lots of pro hunters have used it. It is an excellent knife for hunters made with a 6'' clip point 420HC sharp steel blade. It is strong and erosion resistant at the same time. Which means it has long-lasting durability. You can easily cut tight places, pierce stuff, and do other detailed works with it.
The traditional black phenolic handle of it will give you a firm grip and balance so that you can get better agility while cutting certain things. The high-quality protective leather sheath outside of it will provide you with maximum comfort. You can also carry the knife securely with a belt loop that can be attached to your belt while hunting. It has been made with flexible non-heavy materials so you can work much faster with it.
Its overall length is 10- 1/2'' and weight is 7.5 oz. An aluminum guard inside it ensures the perfect combination of beauty and balance. The made in USA knife also offers you a special lifetime warranty. So, you can exchange or contact them anytime if you feel this knife has some problem.
Morakniv Craftline 546 Fixed Blade Knife
The Morakniv Craftline 546 is another knife that is known for its immense popularity among hunters. It has been made with stainless steel. Which keeps the knife much sharper and free from corrosion. If you are looking for a knife with proper length and breadth then this has to be the knife you should choose. It has a solid finger guard that improves safety and the perfect handle ergonomics makes the knife fit nicely in your hand.
The 3.6-inch blade is sharp enough to cut raw things, pierce different ingredients and help while hunting. The knife has a hard plastic combo-sheath that will allow you to attach a second knife and sheath with it if you want. The blade's thickness is around 0.2 cm and the length is 3.6 inches. It weighs in just 4.1 oz. Which is more than enough for the hunter to carry it easily.
The plastic handle of the knife is also impact resistant and that's the reason behind it being so comfortable to use. The knife is made in Sweden and you will be getting a lifetime manufacturer's warranty on this knife. So you have the authority to contact the manufacturer's anytime you want.
BucknBear Custom Handmade Fixed Blade Damascus Hunting Knife
BucknBear Custom Handmade hunting knife is recognized as one of the best skinning knives. It has a sturdy handle for anyone to hold on and it also lets one have a comfortable grip. You will have a wonderful balance over it. It's a knife that most of the hunters widely suggest. It is durable, sharp, and built quality materials. You can also easily sharpen or clean it anytime you want.
It is made with a Damascus steel blade. Which is know to be very strong and sharp. The high-quality material will last for a long time and you can pass it from generation to generation. The special thing about this knife is that it has a very unique drop point buck. Which looks amazing and comes in quite handy while cutting anything faster. To support this blade there is a classic wooden handle too.
You can easily carry this knife with a cool-looking premium leather sheath. It also protects the knife from any kind of scratch. It is a collectors knife so it's weatherproof most of the time. The manufacturers of this knife also promise a lifetime warranty to all consumers.
Bushcraft Survival Hunting camping knife
The bushcraft knife is a high-class tactical and knife for hunters all around the world. Most experienced hunters use this knife as an important tool for their hunt. It is specially designed and built to be used in rough and critical outdoor conditions. It has a stainless steel blade that is sharp enough to cut through anything pretty fast. The blade is supported by a highly resistant Micarta handle.
The handle will fit just fine into your hands and it's quite comfortable too. You will get enough flexibility whenever you hold the knife and try to work with it. There is also a genuine leather sheath with the knife so that you can carry it anywhere you want. The blade length is 3.94" inch and 0.16" inch thick. The knife is also not much heavy than usual hunter knives.
Besides hunting, campers and wildlife enthusiasts are also highly eligible for this knife. The fire steel is also included with this knife. The manufacturers say that they tested its quality many times under different conditions. So they promise a 100% money-back guarantee if anything goes wrong after buying the knife.
Gerber Vital Big Game Folder Hunting Knife
The Gerber Vital Big Game Folder Hunting knife is special and knows for its blade exchanging feature. The split-sec-tech tool allows you to swap blades within a sec and with just one push button. It's a big relief for any hunter who wants to save more and more time in the field. The blade arsenal comes with a surgically sharp blade, two additional drop point blades, and two blunt tip blades.
The rubber armor handle makes it different from most hunting knives. It gives a solid and comfortable grip which is second to none. It also has a carrying case which has a separate section for blades. The case is sold differently but the sheath is included for free so that you can carry it anywhere easily and save it from outer scratches all the time.
The length of the blade is 3.75" inch and overall measures 11" inch. While the weight is only 4.9 oz. The knife also has two locks that keep the blades at a safe distance from your hands. The highly durable knife also lasts for a long time. It will give you enough stability while will help you to cut anything swiftly. So, you no longer need to think about working fast during hunting with this knife.
Opinel No.8 Carbon Steel Folding Pocket knife
If you're looking for a cheap hunting knife that will last long then Opinel No.8 Carbon Steel Folding Pocket Knife has to be the one for you. It's not that much costly and it also supports fine under several conditions. It's a very old product in the market and it's working since 1890. This is the main thing that makes this knife so special.
The knife has a good-looking carbon steel blade at the top. Which is quite sharp and also dangerous for your fingers. So you must use it carefully. Then comes the little stainless safety ring that has two sections. One is fixed and another sliding one for locking the knife. For the grip, it has a solid beechwood handle. It's very strong and hard.
The knife is handmade and it's also made in France product. The blade size 3.25" inch which is enough for cutting mid to small things. It comes in handy while small hunts or camping. The knife has a normal use guarantee and the manufacturer's also said that it can be exchanged due to any manufacturing defects.
Buck Knives 113 Ranger Skinner Hunting Knife
This is another great hunting knife made by Buck. The 113 Ranger Skinner Hunting Knife is mainly special for skinning. Just like the earlier one it also has a good drop point blade that has good edge retention. The blade is also corrosion-resistant. With a length of 7-1/4" inch and a weight of just 5.2 oz, it's a knife that will last for a long time due to its wonderful durability.
The blade of this knife has thin point and curved mid that is perfect for skinning. You can cut thick layers after thick layers with it without making any mistakes. It also has a down-angled point at the end that will stop you from cutting any slice in the wrong way. The classic and functional knife is mostly recognized for its great skinning ability as you've read above.
The handle of the knife has a good ergonomic design. The ebony handle with a brass bolster will sit perfectly in your hand. You will certainly have a comfortable grip on the knife. Just like the previous Buck knife it also has a genuine leather sheath and belt loop for carrying. This made in USA knife also offers a lifetime guarantee of their product.
Perkins Fixed Blade Bowie Hunting knife
The knife makes on the list, especially for its beautiful design and razor-sharp blade. Perkins Fixed Blade Bowie Knife has a solid 440c steel blade that will stay sharp for a long time compared to other blades in the market. The full tang design of the knife makes it more appealing to hunters as hunters get the perfect balance with it. The strength, durability, and reliability of this knife are another level.
The knife has a genuine leather handle that ensures a firm grip over the knife. The blade just not looks beautiful but it is also comfortable to hold. It has a good design that will attract your eyes every time you look. You can carry this knife with a good leather sheath that will be provided to you alongside the knife. So you and the knife will be protected while hunting.
The overall specs of the knife mostly meet all the requirements that a hunting knife should have. It has a strong and sharp blade, the knife has a beautiful design and good grip. The manufacturers of this knife will also give you a replacement or money back deal in case of any defects. You contact them by phone or email anytime you want.
SS-1 Knife 4U Damascus Hunting Knife With Sheath
This is another hunting knife known for its strong and razor-sharp blade. The tang design of the blade makes the knife extremely strong and reliable for hunters. The steel bolster that works as a connector between the blade and handle of the knife makes it non-slip and helps a person to maintain his/her balance while hunting. This knife has been forged in fire. As a result, it has very good edge retention.
It has a regular drop blade like most hunting knives but the thing which makes the difference is the ergonomic handle design that gives perfect grip to its holder. You can maintain a flexible and comfortable grip every time you hold the knife in your hand. Its knife is versatile enough to do a lot of things together. You can do both small kinds of stuff and skin larger animals with this knife.
You will also be provided with a leather sheath and a wooden box with it. So that you can carry it anywhere with ease. You can also attach your belt with a handy belt loop. The length of the blade is 4" inch, the handle length is 4" inch and the total weight of the knife is 7 oz.
Things to judge before buying a hunting knife –
Blade design
It's the most important thing to consider about a hunting knife. There are many types of blades for many purposes. Suppose a drop point blade will help you to cut the bushes easily and you can cut through the skins of different animals easily. Because it's more thick and strong. On the other hand, a clip point blade is more thin and sharp.
You can mostly use it for smaller activities like cutting ropes, veggies, and doing kitchen stuff. There are also skin-cutting blades. They are only confined within cutting any sorts of animal skin. So you have to think about the blade design first.
The material
Different types of knives are made with different materials. Mostly they are made from metal. But metals also have various kinds. An aluminum metal knife is more sharp and thin. It will help you to cut fast but it won't hold its sharpness for a long time.
But, if you buy knives made with carbon metal. You'll notice that it will hold its sharpness for a long time and you won't need to put much effort to cut anything. Because it's more strong and thick. The basic difference is one is heavier and the other is not. Besides these, there are many other complications you need to consider before buying a good hunting knife.
Grip and size
This is a big fact you need to analyze before buying a hunting knife. Because most of your work depends on the knife's size and your grip. But the question is that how do you know if the size is good for you? Well, the answer is pretty simple. First, you need to hold it in your hands and see if it fits into your hands or not.
If you feel comfortable with it and no part of the knife bothers you then the size is perfect for you. As far as the grip is concerned there are different types of spaces in a hunting knife that will help you to get a fine grip. You will also know the right grip when you hold it in your hand.
Weight
If you're a hunter then the weight is your biggest enemy. We all know that Hunters walk a lot So they have to carry lightweight things more. Or else they easily get exhausted. Even though a knife doesn't have that much weight. But still, a lightweight knife is more preferable to hunters. There are many reasons for that too.
The first reason is that if a knife has too much weight then it's hard to balance the knife while cutting an animal's skin or anything else. Then too much weight can also dispose of the knife from your hand and increase the chances of any kind of accident. As the sharp blade can cut your hands or anything else.
Choose according to your purpose
There are many purposes for a hunting knife. People use hunting knives for skinning animals, processing food, making traps, cutting ropes, and so on. There are different kinds of knives specialized for every task. Different knives are better at different tasks. Your hunting environment also matters a lot while picking the perfect knife.
If you can do all these tasks under cold, hot, or other weather conditions then the knife will be perfect for you. So first you have to exactly know your tasks and then buy the knives that will be best for these tasks. Only after considering all these facts, you should buy a hunting knife.
Some FAQ's regarding Best Hunting Knife under 100
Final Verdict
We know how daunting it is to choose between such a wide range of hunting knives. Maybe a budget over 100$ would've got you a better hunting knife? Well, don't be in such an illusion. Under 100$ tons of hunting, knives can be perfect for you.
All the hunting knives we have put in this list are suggested highly by hunters and knife experts. Remember that there are various facts to judge before buying one and we have to work hard to give our honest reviews about them. So, do consider buying one from the list!